Duck Creek is a unique technology company. They develop industry-specific software that helps insurance carriers to deploy and manage their products and services. As such, they operate in a particularly competitive market. To stand out from their competitors, Duck Creek needed an employer brand that differentiated them from other companies.
Talent Works started by determining the differences between Duck Creek and their competitors. We undertook senior stakeholder interviews, engaged with over 100 employees to understand the current employee experience, looked at data from exit interviews to identify any patterns, and in addition, we evaluated employee survey data to gain an understanding of employee engagement.
Our approach meant we could build an authentic, relevant employer brand that truly reflects the employee experience at Duck Creek.
Learning about the company culture to help develop the employer brand
Differentiating Duck Creek from other companies in the industry was quite simple. The culture there sets them apart, not only from traditional insurance companies, but also from tech companies. It's vibrant, diverse, fun and collaborative. People aren't sat behind their computer screen all day – the environment is informal. Once we understood the culture of the company, we moved into the creative development phase of creating an Employer Brand.
We developed a look and feel which sets Duck Creek apart instantly. The tagline 'Dive into Duck Creek' encourages people to discover more about the values, work environment, rewards and CSR, the learning experience, and the different career development paths available.
Giving the recruiters the tools they need to market the Duck Creek employer brand
Following the completion of the brand, Talent Works implemented the strategy – we equipped recruiters with a toolkit that helps them create their own branded content. This gives them tips on when, where and how to post and puts the brand in the hands of the Duck Creek recruitment team, allowing them to bring the new culture to life in their networks.
The Duck Creek careers website was also given an update, with a 'Life at Duck Creek' section. These regular updates show people the culture, people and work environment of the company. Between 2021-2022, there were increases in all areas of its social media presence.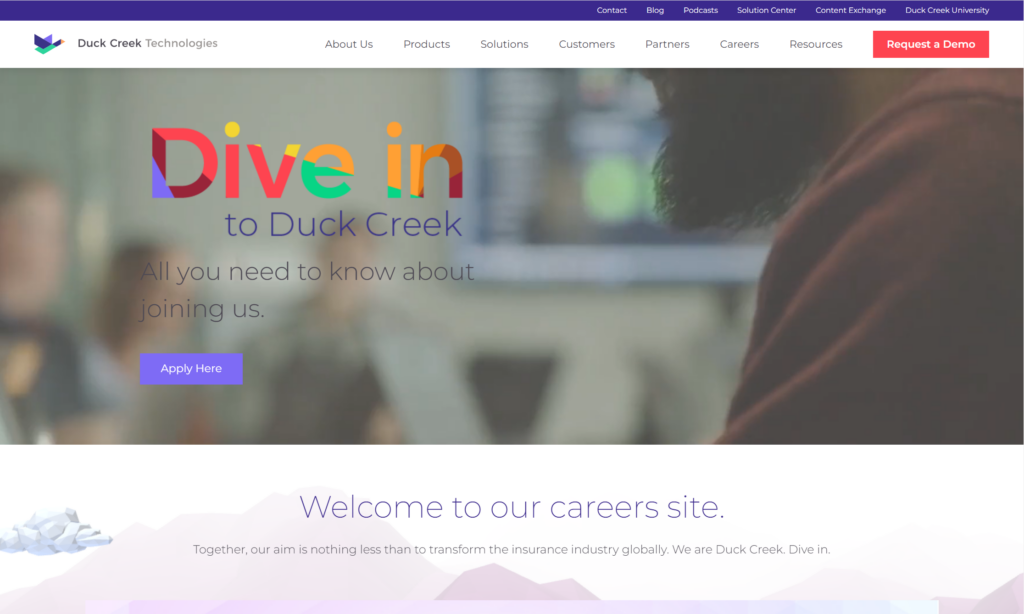 We advised Duck Creek employees to include a click-through to their careers website in all of their content. This allows candidates to dive in and explore content they may not have already seen. Following the approval of the new branding, the entire careers site was planned, wireframed, designed and written in the new 'Dive In' identity. Visitors of the site now have access to a whole host of new content to immerse themselves in, including:
New video content on the careers home page and on the 'Working Environment' page
New section on Life@DuckCreek
New page on Diversity, Equity and Inclusion
New content on Early in Careers, including additional video content
The impact of Duck Creek's new employer brand
Candidates now get a better insight into the company culture as a result of the new, more immersive content and the metrics are there to back this up. Interaction on the careers site has received a significant boost, with the following metrics showing increases:
Avg. time on page
Direct entrances (meaning someone got to the site starting with the careers page)
There's also been a significant decrease in bounce rate (down from 79% between Jan-Aug 2021 to 39% between Jan-Aug 2022).
As for measuring the success of this project, Duck Creek has increased its new hires by 12%. To advance from this, the next stage is to take the employer brand directly out to candidates with the aim of standing out. Continuing to create a connected candidate journey is something they will continue to work on so that people can 'Dive into Duck Creek' and immerse themselves in all of its great culture content.
If you're thinking about working with a provider of RPO or Embedded Talent solutions, we'd love to pitch for you. With specialisms in the tech sector and helping businesses expand their technical and digital capacities, we help some of the world's most exciting enterprises scale.
As an RPO and Embedded Talent solution provider based in the UK, US, and more recently, South Africa, our teams have truly global reach and can help you expand into new territories.
To find out more about how our flexible approach to recruitment can help you or to let us know more about your future recruitment projects, contact us.