Which type of recruitment is best for your organisation? There are several an organisation can choose from – we're going to focus on Recruitment Process Outsourcing (RPO), In-house and Embedded Recruitment.
Embedded recruitment:
Embedded recruitment is where recruiters are placed within an organisation to represent them effectively in the talent market. As a process, it's more substantial and does more than just placing candidates.
It allows individuals to focus on the assessing of talent, and also provides the groundwork for improving the long-term development of a company and their ability to support scaling.
Rather than just sourcing talent for open positions, embedded recruitment aims to ensure the business maintains its appeal and continues to attract talent. This type of recruitment also helps with a company's talent retention.
In-house recruitment:
Businesses large enough to have their own internal processes, but without the need to scale rapidly, may have their own in-house recruitment. One of the advantages of an internal recruitment team is that they can get to know the business inside out. They will be familiar with clients, how to manage and sell to them and this helps guarantee a synergy between the client and the business. Another benefit of in-house recruitment is they have a more thorough understanding of the culture. Understanding who makes a good fit culturally is much simpler when you're a part of it.
Recruitment process outsourcing (RPO):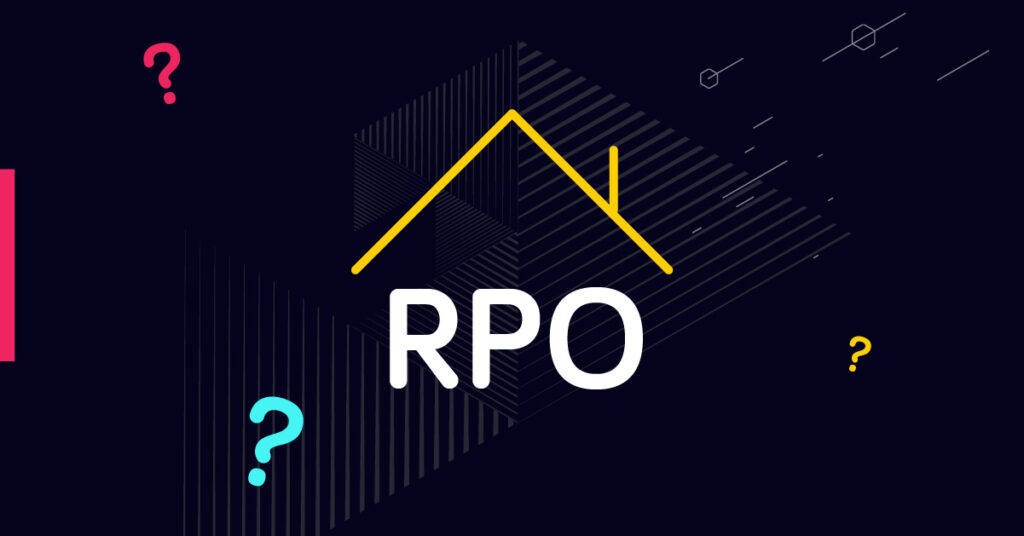 RPO is when an organisation hands over their recruitment processes in their entirety to an external provider.
When an organisation needs to outsource part of their recruitment process, RPO is often a good option. If a business needed specialist recruiters or to scale rapidly, they might use RPO, but maintain their existing in-house processes. This would afford them access to an external providers talent pipelines, talent pools and specialist knowledge of recruitment.
RPOs spend time sourcing, screening and onboarding candidates. Their expertise in this area helps ensure a business gets the best talent. They also create 'talent pools' that allow them to have 'ready-made' candidates for specific vacancies.
Which is best?
The different recruitment methods all have their merits and drawbacks. What might suit one need, might not suit another. For example, if a business needs to scale rapidly, RPO is the most efficient option. They're specially equipped to provide solutions to issues like this. External recruiters may be able to provide candidates, but an RPO solution is more specialised. Providers might incorporate creative, digital and insights into their offering, which allows them to achieve far more than an in-house recruitment team could.
Advantages of RPO over in-house or embedded recruitment
An RPO provider can scale a project up or down, by adding or removing recruiters. This is a particularly useful advantage over other recruitment types. In-house solutions require an organisation to commit to a certain number of recruiters, making them less flexible than RPO providers. Embedded recruitment, while more similar to RPO than in-house, does not necessarily offer the same flexibility. RPO providers can embed their recruiters into organisations, but also react better to changing needs, so can scale their support up or down without losing out. A recruitment provider that works on a solely embedded basis may not be as flexible to the market needs.
Should I use RPO, in-house or embedded?
There are reasons to use all three, so it's not quite as simple as 'one is better than the other'.
In-house recruitment may work well for larger organisations with no urgent scaling needs. They typically have the necessary resources smaller businesses might not, and having a focused internal team offers that specialist knowledge of the business.
RPO providers offer more flexibility – they can easily scale up or down according to the current needs and offers much more than just 'bums on seats' as detailed above. Some providers, such as Talent Works, can also provide embedded recruitment as well as RPO. Doing so ensures a wider audience and gives clients more options with each hiring requirement.
Embedded recruitment's advantage is its proximity to the business in question – this makes it easier for recruiters to gain a more thorough insight and understanding of the culture. This type of recruitment doesn't have the same flexibility you'd get with an RPO provider, though. Scaling up or down may be more of a challenge for an embedded recruitment provider.
Talent Works offer an agile, flexible approach to recruitment. Our approach is unique in that our core services can be flexed to suit business needs; our recruiters can embed themselves into your organisation but you can scale back the services as and when required. Get in touch to find out how we can help you.