What are they?
Talent Works' Contingent Workforce Solutions are best-in-class, scalable models for managing your contingent workforce requirements.
Businesses that suffer seasonal or economic downturns, or other temporary staffing issues, often use contingent workers to fill the gap. Unlike other temporary workers, Contingent workers are often more highly skilled, making them attractive for growing or scaling businesses. These companies don't always have sufficient budget to employ highly skilled people permanently, therefore, contingent workers are an ideal solution.
Contingent workers are now becoming an integral part of many companies recruitment strategy, rather a backup plan.
How can a Contingent Workforce Solution help your business?
Having access to skilled workers on an on-demand basis is extremely valuable to companies with smaller budgets. In addition, contingent workforces can be used to plug temporary skills gaps. Alternatively, it might be that the available candidates just don't fit. Bringing someone in temporarily can be the best option in instances such as this.
Cost saving is one of the significant benefits of any contingent workforce solution. Employing permanent staff is a financial risk, particularly if they need training to reach the skill level you require.
What you need to know about managing your contingent workforce.
Research shows that 90% of organizations have some contingent workers and 6% say over half of their workforce is comprised of non-employee/contingent labour.
There are numerous processes involved in managing a contingent workforce:
Equipment provision
System access
Payroll
Company policies & guideline
Training
The above are all major components of contingent workforce management and are vital to ensuring your contingent workforce can work effectively and compliantly.
Many Talent leaders and CHROs are looking into previously untapped remote-work locations, where they may not have experience with the local regulations and laws. With less than one third of organizations describing their efforts to retain talent as successful, an MSP (Managed Service Provider) can help source the right talent.
A vital component of managing any contingent workforce is Vendor Management Software (VMS). A VMS helps you ensure full visibility of your entire workforce and can be used to achieve maximum efficiency and compliance. It also gives a company the ability to accurately report on numerous key metrics. Time, cost and compliance can all be measured from within a VMS. This also gives businesses the tools to benchmark themselves against competitors in the same sector.
The fluid nature of the contingent workforce means managing them can be a significant challenge. You may be using contingent workers provided by various sources – some may be agency workers while others are independent contractors. In this scenario, it can be difficult for an organization to ensure they've got full visibility of everyone working for them. Talent Works can take control of all tasks relating specifically to your contingent workforce, allowing you to focus on your products or services and make the most of increased capacity.
Talent Works' contingent workforce offering.
We have three Managed Service Programs – we can work as your sole Managed Service Provider, or, instead, we can act as your Neutral Vendor Managed Service Provider or offer a Hybrid Managed Service Program.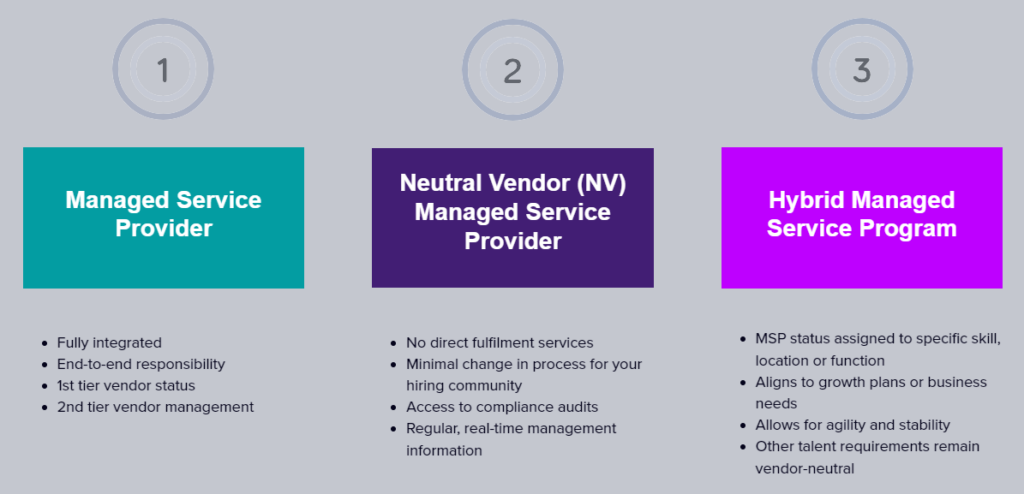 Our contingent workforce offerings are all underpinned by a best-in-class VMS (Vendor Management System), which our experts implement and manage. This system can operate as a standalone solution, or additionally, with other in-house systems.
What are the key benefits of Contingent Workforce Solutions from Talent Works?
There are numerous benefits to our Contingent Workforce Solutions. They're fully scalable, supported by best-in-class software and help you make cost savings. They allow you to optimise your supply chain, mitigate risk and compliance issues and make your workforce more visible.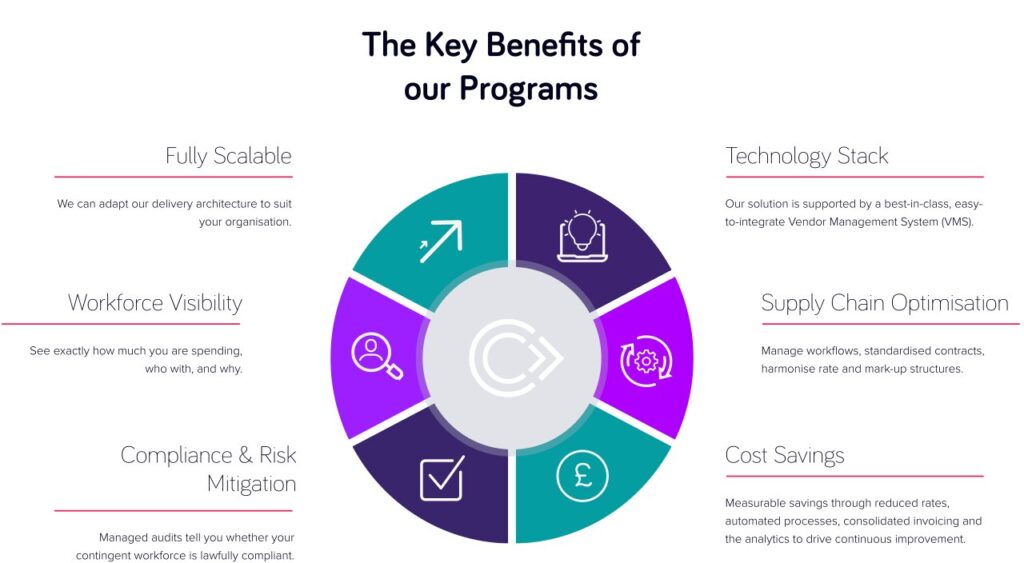 Through real-time analytics and insight, we ensure sustainable cost-savings and deliver measurable value for your organization. Our team of experts will work with you through every step, helping you to optimize the performance and efficiency of your contract, freelance and temporary workforce. Our model is scalable to deliver all the benefits you'd expect from a world-class managed service provider.
If you're thinking about working with a Managed Service Provider, we'd love to pitch for you. With specialisms in helping businesses expand their technical and digital capacities, we help some of the world's most exciting enterprises scale.
As a Managed Service Provider based in the UK, US, and more recently, South Africa, our teams have truly global reach and can help you expand into new territories.
To find out more about Contingent Workforce Solutions, please get in touch.